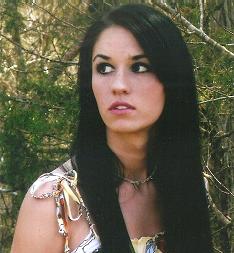 ASHLEE CHOATE is a very talented
singer/songwriter who hails from a
a really small town in NW Arkansas.
She grew up singing in church, and
at talent shows, weddings and other
local events... and she's been writing
songs "since I could speak". (Her love
of writing led Choate to earn a college
degree in English.) Ashlee describes
herself as a "hippiebilly"... half hippie,
half hillbilly. She is inspired by nature,
and spends a good deal of her time on
the Buffalo National River. Among her
many musical influences, she lists Janis
Joplin, Stevie Nicks, Hank Willams (both
Sr. & Jr.) Reba McEntire, Hank Williams
(both Sr. & Jr.), Led Zeppelin and Sheryl
Crow. Ashlee recently recorded her first
two songs for Wild Oats Records... and
we look forward to bringing you more
of Ashlee's music in the future.
Sample a bit of one of Ashlee's songs below!
1. Set Me Free
2. White Cadillac
Words & Music by Ashlee Choate
Produced by Steve Haggard
Engineered by Andrew Hooker
Mixed by Andrew & Steve