Pat DiNizio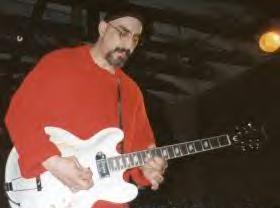 Singer/songwriter/guitarist Pat DiNizio is best known
as the founder and leader of the very successful rock
band, The Smithereens, who have earned two gold
albums and are still going strong. (Pat wrote and
sang all of their hits, including "A Girl Like You".)
But as DiNizio's Oat CD, The Living Room Tour
demonstrates, he's also a great solo performer. We
recorded the album live at two gigs -- one here in
Nashville, one in Chattanooga -- during DiNizio's
"Living Room Tour," a musical odyssey that saw
the artist criss-crossing the USA. The CD captures
Pat in peak form, giving powerful performances
of all the Smithereens' hits, many other DiNizio
originals, and a few choice covers.
Listen to a Pat DiNizio MP3 clip below
The Living Room Tour (Wild Oats Records)
1. Behind The Wall Of Sleep
2. The House That We Used To Live In
3. Groovy Tuesday
4. Blues Before And After
5. Paranoid
6. Room Without A View
7. Only A Memory
8. Maria Elena
9. Well... All Right
10. Yesterday Girl
11. Behind Blue Eyes
12. Blood And Roses
13. A Girl Like You
Produced by Steve Haggard / Recorded by Jack Howell
for information: info@wildoatsrecords.com