Eddie Kirkland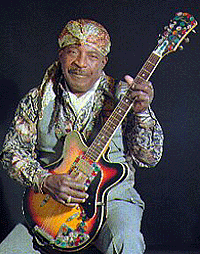 Born in Jamaica, raised in Alabama, a longtime
fixture on the Detroit music scene -- he worked
there for many years with John Lee Hooker --
the great Eddie Kirkland has been singing and
playing the blues for some 60 (!) years now...
and he's still going strong. During his long and
illustrious music career, Kirkland has recorded
for labels like Prestige, Stax/Volt and Telarc,
and we're thrilled to have him on the first CD
in our new Wild Oats Records Blues Series,
FOUR ACES. Since first running off with a
medicine show at the age of 12, this classic
blues artist has performed everywhere from
Montana to Turkey to Greece; and as these
new recordings show, the man's gritty vocals,
drivin' guitar and soulful harp still sound great.
Listen to an Eddie Kirkland MP3 clip below,
and to buy FOUR ACES, click here.
FOUR ACES (Wild Oats Records)
**** Eddie Kirkland
1. TELL ME WHO (E. Kirkland)
2. I'M A MAN (E. McDaniels)
3. WALKIN' ON MY WAY TO MIAMI (E.Kirkland)
4. EVERY DAY I HAVE THE BLUES (P. Chatman)
**** Melissa Sigler
5. LIGHT ON IN THE KITCHEN (M. Sigler)
6. ZYDECO (M. Sigler)
7. MERRY CHRISTMAS BABY (M. Sigler)
8. BACK TO THE BAYOU (M. Sigler)
**** Billy F. Otis
9. TOMBSTONE BLONDE (B.F. Otis/M. Ault)
10. I DON'T LOVE YOU (B.F. Otis/M. Ault)
11. I'M READY (W. Dixon)
12. SHE'S COMIN' ROUND (B.F. Otis/M. Ault)
**** Willie Foster
13. READY FOR THE BLUES (W. Foster)
14. GOIN' TO ST. LOUIS (W.Foster)
15. MY LIFE (W. Foster)
16. LET 'EM TALK (W. Foster)
for information, contact:
info@wildoatsrecords.com