In addition to our professional recording studio located just off Nashville's
Music Row, Wild Oats Records also offers a superior live recording service
known as the Oat Central Mobile Recording Unit.
This fully-equipped mobile studio -- complete with all the gear you'd need
to record a great-sounding live album -- can record you here in Nashville
or in your own hometown. Or just about anywhere.
Whether you'd like to cut your live CD in a club, at a festival, in a concert
hall, or at any other type of venue, the Oat Central Mobile Recording Unit
can be there to capture the music and the moment.
Our experienced production team, led by chief recording engineer Randall
Merryman, will take care of all the details: pre-production, live recording
and post-production/mixing. At the end of the project, you'll have a fully-
mixed DAT and CDR, ready for manufacture. All you've got to do is play.
Randall Merryman has worked with artists like the Marshall Tucker Band,
Jonny Lang, Jimmy Vaughan, Keb Mo, Johnnie Johnson, Brenda Lee and
Billy Burnette. He has mastered CDs by Dr. John, James Brown, Albert
King, George Jones and many others, including the entire Blues Masters
series for Rhino Records.
If you'd like to record live here in Nashville, we'll take care of everything,
including setting up the venue. (And if you need additional musicians, our
Wild Oats Records production team headed by Steve Haggard regularly
works with the cream of the crop.)
If you'd like to record live in your hometown, or at a gig elsewhere, just
contact us and the Oat Central Mobile Recording Unit will be on its way !
For details and prices on either our live recording service, or our regular
studio recording here at Oat Central, e-mail us. Or call us at 615-662-1677.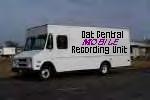 Disclaimer: We may not be
arriving in this exact truck.